Not long ago a ten year old girl sat across from me telling me of her reading woes. She said that all the books people her age were about "yucky grown up stuff" and that there was nothing good to read "so what's the point of reading when there aren't any good books out there?". Of course, I told her that there were plenty of wonderful books perfect for girls her age, and I rattled off a few of my favorites. A couple weeks later, this little girl came to me that she had read The Borrowers and absolutely loved it. I gave her a few recommendations and she thanked me. That was that.
She made me realize that there are a plethora of wonderful children's books that I loved as a little girl that have been kind of forgotten. Because of this, readers, who are too young to enjoy young adult fiction, are frustrated by their seemingly limited options. So I've chosen to compile a list of books that I loved as a child, to give young readers some options. The list is divided into age groups so that you can quickly locate books that are perfect for your child's age group, and I've included links to where you can purchase these books cheaply. I apologize in advance about the length of this post.
Very Young Children ~ Ages 3 to 5:
These books are are short picture books with beautiful pictures and cute stories that are perfect for little ones.
The Very Hungry Caterpillar by Eric Carle 


This is a children's classic that was one of my favorites. The cardboard book with little holes cute in the pages as if the caterpillar ate through them always amused me. You can purchase it here.
Caps for Sale by Esphyr Slobodkina 


My mom read me this book when I was very little. I can remember snuggling in her lap and having her read this to me. In fact, I think it's the first book that I can actually remember. It has monkeys in it and hats. It's just a fun book. It's for sale here.


Guess How Much I Love You by Sam Mcbratney


My parents gave this to me for Valentines Day one year and it still has a prominent place on my book shelf. It's a cute metaphor for how much parents love their children. Pick it up here.





Young Children ~ Ages 5 to 8:

 These books are a little longer, a little harder to read, but still are enjoyable to read aloud to younger kids.
The Polar Express by Chris Van Allsburg 


This is by far my favorite picture book. It's just fantastic. Get it here. Just make sure that you don't get the one with the updated illustrations.
If You Give a Mouse a Cookie by Laura Numeroff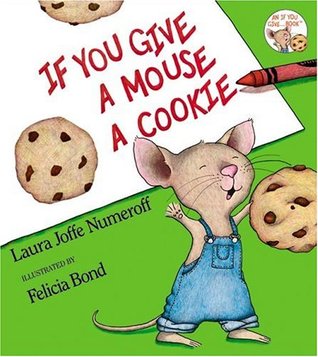 This is the first in a long series of books that are just plain cute. Get it here.
Mrs. Piggle-Wiggle by Betty MacDonald 


Mrs. Piggle-Wiggle is a eccentric old lady who loves children and helps parents in unusual ways. If you really fall in love with them, there is a whole series that follows the original. They are short chapter books that are the perfect things for an early chapter book. Buy it online here.
Mr. Popper's Penguins by Richard Atwater 


Again, this was an adorable and perfect little book about a house painter who just so happens to procure some penguins. Hilarity ensues, naturally. This is a great book to read aloud. Do not let the TERRIBLE movie dissuade you from reading this. Get it here.










American Girls by Various Authors


These books are gold! They correspond with the line of historical dolls that American Girl has. They deal with difficult topics like slavery, immigration, war, and sacrifice in a manner that little girls can understand. My favorite is Felicity, a girl from Colonial Williamsburg, but there are countless more. I put them in this age group because they are great to read aloud but they are also really easy to read. I think I started to read them in the second grade and I kept reading them until I was twelve or so. Really, these are amazing books and there are LOTS of them for your kiddos to enjoy.
Older Children ~ Ages 8 to 10:

These books are chapter books, but still very much children's books.
The Little House Series by Laura Ingalls Wilder 
These books are American classics that should not be missed by any child. Even if you are an adult and haven't read them, you need to. They are absolutely endearing, heartfelt, and timeless. Also, for adult readers, read a biography of Laura Ingalls to see how she doctored her life story. Buy the series here and a short biography here. Older kids who have read the books might enjoy the biography as well.
Ballet Shoes by Noel Streatfeild 
I will not waste your time singing the praises of this book, but please, please have your child read this. It is a wonderful book, particularly for girls who dream of being performers. Buy it here













The Borrowers by Mary Norton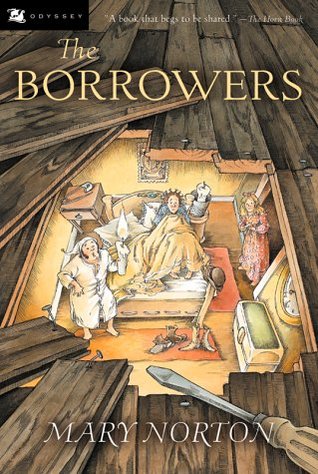 These books are adorable, and, again, I won't waste your time singing their praises. The story of little people living under floor boards and drainpipes is just timeless. The first is much better than the rest of the novels, but they are still worth the time to read. Just don't let the terrible movie dissuade you from having your children read it. Grab it here
The Trumpet of the Swan by E.B. White 


This book comes from the same author of Charlotte's Web, the great children's classic. I personally enjoy The Trumpet of the Swan better than Charlotte's Web. Like his other book, White uses talking animals to move the plot along. It's cute, funny, and has a great message. Here's the link.









The Hobbit by J.R.R. Tolkien 


Maybe being a Tolkien junky makes me biased, but I think that introducing children to Tolkien as early as possible is best. The Hobbit is much more of a children's book than the Lord of the Rings is so this is the perfect book to read aloud. Just do me a favor and don't get an abridged version. My heart just can't handle it. Here's the handy-dandy little link. Oh, and if you want to invest in your child's future Middle Earth love, get them the complete boxed set here just don't let them forget about The Silmarillion. 


Tweens ~ Ages 10 to 12
These books are longer and more suited for older children in their dealing with the stories; however, most children this age will still enjoy the books from the Older Children section.
Mrs. Frisby and the Rats of NIMH by Robert C. O'Brien 


Okay, so if you're familiar with the 1982 movie adaptation of this book, bless you. I love that movie now, but as a tween it scared me to death. Anyways, this book is fabulous. I love the fact that what is "magic" to Mrs. Frisby is actually just basic science proving that there is normally an explanation behind even the most magical of happenings. It's a great fantasy book for kids interested in science. Oh and despite the title character being a girl, this is a book that boys would really like too (there's an order of rats that are knights). Nab it here.
Paint the Wind by Pam Munoz Ryan 


This is the perfect book for little girls going through there "horse phase". "Horses" by Seymour Simon is pretty good as well for something nonfiction, but it does have a page or two about the evolution of the horse that you might want to be aware of. Anyways, Paint the Wind is a beautiful book and probably one of my favorite children's books. It deals with some really serious topics like loss, and family, and truth. Ryan doesn't shy away from the seriousness of these topics; instead, she tackles them in a way perfect for tweens and older children.Fair warning, this book is about an orphaned girl getting over the loss of her parents and the discovery of a family she never knew. It isn't exactly happy material, but it so good. Get it here.

Beauty by Bill Wallace 


Another horse book, but it entirely different from Paint the Wind. The main character in this one is a young boy. I think this is a book that boys would also enjoy. Get here.
The Chronicles of Narnia by C.S. Lewis 


These are quintessential children's books. Like Little House no child should miss out on the wonder and enjoyment of Lewis' The Chronicles of Narnia. If you so happen to stumble upon another Narnia lover you will probably get into a heated debate about the order in which you are to read these. but it really doesn't matter (read about the great debate here). These books are just absolutely wonderful and a great way to introduce your children to symbolism and the great Christian man that C.S. Lewis was. Later as they get older, you can introduce them to his nonfiction works like Mere Christianity and The Screwtape Letters (Click on the link to read my review on that great work of art). Just please, let your kids read these. They truly are magical. Here's the boxed set.
Young Teens ~ 13 to 15
These are a FEW of the books that I loved at that age that aren't YA and still very innocent in their subject matter. If you'd like to know more books that fit this bill, comment below. A lot of the books I've previously listed are suitable for this age group as well.

The Lord of the Rings by J.R.R. Tolkien

So if you bought the boxed set of the Middle Earth books this is the perfect age for your kids to read and enjoy The Lord of the Rings on their own. I really, truly, completely, and utterly love Tolkien that it hurts my soul to think that there are people who have never read him. I could go on for years about The Lord of the Rings, but I will spare you as this post is already too long. One piece of advice, if you have a long trip or something listening to these on audio is great. Here's the audiobook.
Anne of Green Gables by L.M. Montgomery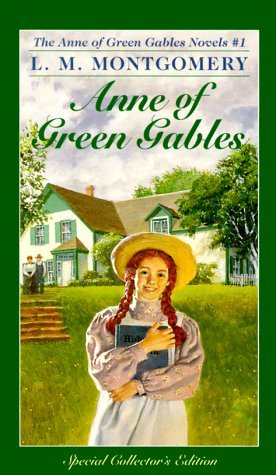 These books are the first books to really help me become comfortable in my own skin. I love them so much. Anne's journey is one that everyone can relate to. I put them in this age grouping for a couple reasons, the sequels deal with some darker and more complex stuff that younger children can't understand. Also, Anne of Green Gables should be first enjoyed at a much younger age, but this is the age that I think kids should go back and reread them just to catch all the things they missed. Here's the 8-book series boxed set.



Middle Teens ~ Ages 15 – 16
Three of my favorite books that might have been overlooked.
Harry Potter by J.K. Rowling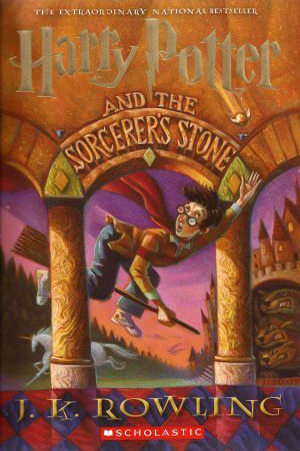 Please don't crucify me for this pick. I understand if you are opposed to Harry Potter, really I do, but these books are the books that grew up with me. They are engaging, brutally honest, and compelling. They deal with friendship, compassion, good vs. evil, and integrity. For these reasons, I truly enjoy this series (I think I've said that about every book). Anyways, if you are so inclined here's the link.

Little Women by Louisa May Alcott 

I think I've read this book about ten times, and that's not an exaggeration. This is a book that every girl needs to read. It is powerful and just brilliant. If you haven't read the book you must. This is one of the few books that has actually made me cry. Buy it  here. And if you really like it, you can get the volume with the entire trilogy here.
I can't even describe this book. It's kind of dark and twisted, but it is a treasure. Just read it. Get it here.
So that's that guys. Like I said, I divided this list into age groups, but that does not mean that these books can only be enjoyed in that age group. If you have any questions about any of these books comment below. Oh, and if you like to see more lists like this leave that in the comments as well.
Thank you so much for your reading.
Love and Happy Reading,
Gayle
xoxo
*******All pictures taken from Goodreads,com. Don't sue me, please.********